Student Jog-a-Thon Prize List
 
Prizes listed below are based on total money raised by student.  Prizes awards are cumulative (all dollar amounts will receive prizes for all lower dollar amounts) and may be substituted.  All students who run receive popsicle and Rockin' Bubble Run sweat buff!!
Students can fundraise both online by emailing friends and family or sharing on social media.  Envelopes are also available at the front office to collect offline donations. Envelopes MUST be returned to your teacher with collected donations by FRIDAY MARCH 31.  One check and one envelope per student.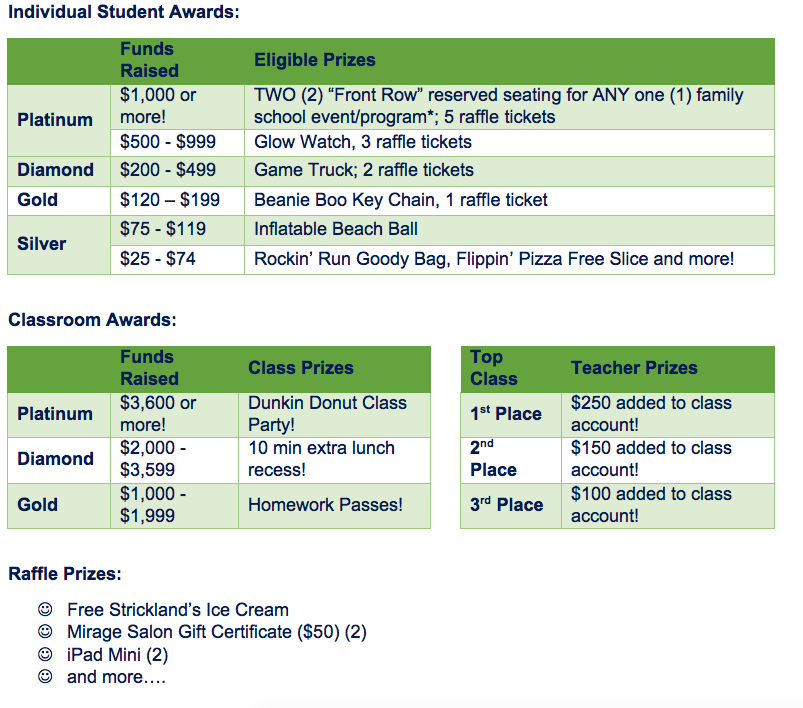 Highest Donation Award:  Dedicated parking space in front of school!
*Events may include; 6th grade graduation, Spring Music Concerts, Grade level performances, etc. Some seating limited supply and advance reservation needed.
GOAL:$80,000.00
ACHIEVED:$71,396.00
Remaining items
Golf Ball Drop Tickets

Unlimited
Dinner Guest

Unlimited
Golfer Guest

Unlimited
Sponsorship

Unlimited
Donation

Unlimited
Super Ticket

Unlimited