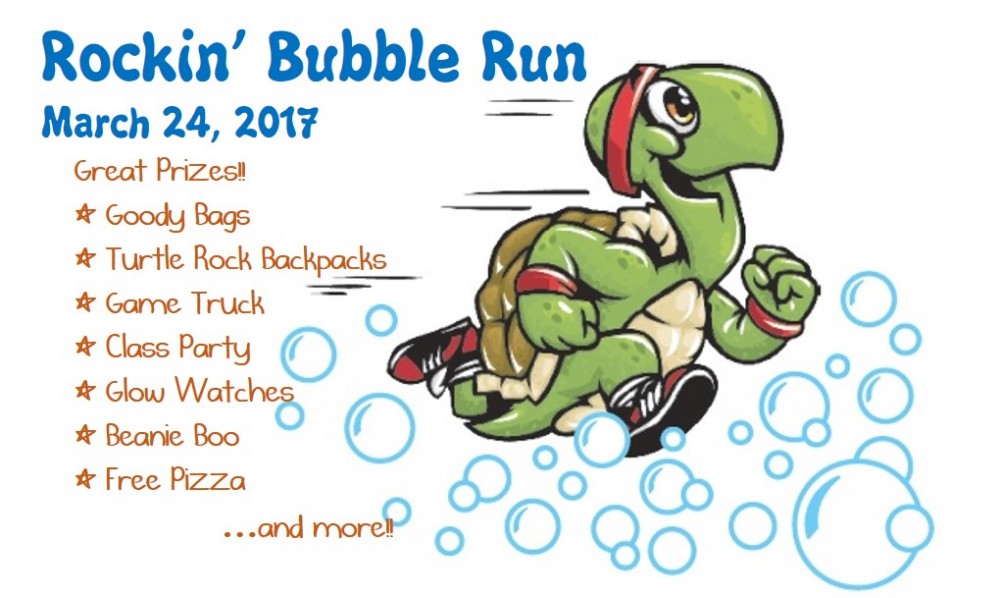 Welcome to Turtle Rock Elementary's Annual Jog-a-Thon! Our largest and most important fundraiser, this year's Rockin' Bubble Run is a first for our school!  Our students are bound to have good "clean" fun and have a BLAST in lots of bubbles!
Start fundraising today!  Track progress towards your goals and help your class earn a party!  We have great prizes for reaching your fundraising goals and lots of raffle prizes.
Here's how:
 Online:
Parents/students set up your fundraising page. Start Here
Set your fundraising goals. Check out our prize page HERE

Share your unique web page via email to your friends and family

After you send out emails, keep checking your profile to see progress toward meeting your goal!
 Directly to your friends or family:
Use your jog-a-thon envelope to collect cash or checks
 Amazing prizes will be awarded for individual student donations, class totals, and even teachers can earn a prizes!  Keep track of your progress and your classroom progress.
Thank you for supporting Turtle Rock Elementary PTA and our  Rockin' Bubble Run!
GOAL:$80,000.00
ACHIEVED:$71,396.00
Remaining items
Golf Ball Drop Tickets

Unlimited
Dinner Guest

Unlimited
Golfer Guest

Unlimited
Sponsorship

Unlimited
Donation

Unlimited
Super Ticket

Unlimited